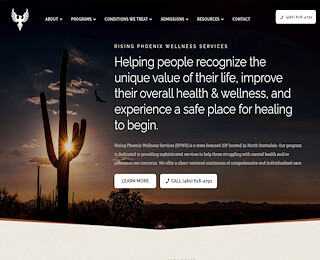 Finding the ideal addiction treatment in Scottsdale is vital when dealing with aggravated addiction. Rising Phoenix Wellness Services offers customizable detox programs, patient-oriented therapy, and structured treatment for immediate recovery and lasting sobriety. But what are the essential things to consider when choosing your rehab facility?
Detox and dual diagnosis
Most substance addictions go hand in hand with mental problems, each issue influencing the other's development over time. You need to find a reliable Arizona treatment center providing dual diagnosis treatment and in-depth detox and recovery programs. Our facility provides immediate detox and relies on in-depth clinical assessment to identify and address co-occurring mental disorders like anxiety, depression, trauma, etc.
Adopting this approach will allow our experts to address addiction's underlying problems, providing safe and effective rehabilitation. Studies show that patients who undergo dual diagnosis find it easier to remain sober after completing the rehabilitation treatment.
Structured recovery approach
Many rehab facilities focus on detox or inpatient services, with nothing else in between. This makes for a faulty approach to rehab, considering how advanced and complex addiction is. We have created a structured recovery program at our Arizona addiction recovery center encompassing multiple disciplines and treatments for outstanding long-term benefits.
To provide a well-rounded rehabilitation experience, we rely on:
Detox and dual diagnosis treatment – The core components of our Scottsdale drug and alcohol treatment, providing relief from mental problems, thorough cleansing, and physical and psychological stabilization.
Inpatient rehab – Intensive, 24/7 support program, offering a safe and comfortable environment for recovery and healing. It includes state-of-the-art amenities, luxury living conditions, and access to high-end treatments.
Outpatient program – It is ideal for those who have completed the inpatient program at our Scottsdale addiction treatment center and no longer require daily supervision. It relies on therapy, counseling, peer support, and 12-step meetings to promote community, sobriety, and long-term stability.
Alumni program – Alumni is often essential for long-term sobriety and sustainable personal development. It is accessible to people who need continued support after rehab, providing family therapy, counseling, and expert guidance for a healthier and more fruitful lifestyle.
A welcoming environment
Any effective Scottsdale rehab for addiction treatment needs to consider the importance of the recovery setting in the rehabilitation process. When it comes to substance addiction, we realize that every detail counts, including the living quarters, amenities, environment, staff, etc. To promote the ideal recovery experience, we offer:
Luxurious living conditions for relaxation, comfort, and security
High-end amenities, providing an unforgettable recovery journey
A friendly environment, filled with welcoming and warm people
The company of our competent and empathetic staff, etc.
We have designed our addiction treatment in Scottsdale to be as inclusive, safe, and comfortable as possible. If you're searching for the optimal place to recover and rehabilitate from your addiction, visit our center today!
You can call the Rising Phoenix Wellness Center at 480-589-0895 and ask for a counselor! We would love to listen to your issues, understand your story, and make plans for swift recovery and healing.
addiction treatment Scottsdale
We welcome your comments!