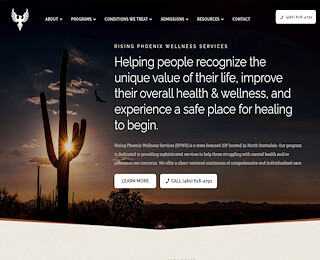 Rising Phoenix Wellness Services is a licensed treatment center for IOP in Scottsdale with world-class amenities and evidence-based programs that address the physical, mental, and spiritual issues of patients battling addiction. With a wide array of services like nutritional support, yoga, guided meditation, and psychiatric services, we help individuals attain comprehensive and sustainable recovery from addiction.
What is IOP?
Intensive outpatient therapy (IOP) is an in-depth addiction treatment program that patients undergo on an outpatient basis. IOP programs require recovering addicts to attend multiple treatment sessions for a couple of hours every day during which they undergo counseling, behavioral therapies, 12-step meetings, relapse prevention education, etc., in a safe, supportive, and stress-free environment.
We recommend IOP treatment in Scottsdale, Arizona, for individuals suffering from a mild-to-moderate level of addiction. IOP does not require medically-supervised detox, since it acts as a step-down level of care for patients after they complete inpatient rehab. It is also the most viable treatment option for those who cannot take time off from daily responsibilities or work or school-related commitments.
Top reasons to choose us for IOP treatment
With a highly effective Scottsdale intensive outpatient program, we offer unparalleled addiction treatment and care in a serene, calming, and high-end facility. Here's what our IOP treatment in Scottsdale does differently:
Evidence-based behavioral therapies - Our team of mental health experts, experienced therapists, and psychiatrists engage recovering addicts in therapies, such as cognitive-behavioral therapy, dialectical behavioral therapy, somatic experiencing, accelerated resolution therapy, solution focus, existential therapy, etc. These programs help us identify and treat the underlying cause of addiction. 
Dedicated staff team - As the best outpatient center in Scottsdale, we offer highly effective treatment with the help of a skilled and experienced clinical team. Our physicians, RNs, and therapists play a quintessential role in our patients' journey towards sobriety.
Recovery support services - Ranked as the rehab with the best intensive outpatient treatment program, we offer a whole array of recovery support services, such as health promotion, vocational/educational support, community services identification and support, etc.
Besides, we are a highly sought-after outpatient treatment center in Scottsdale for our grief/loss therapy, trauma therapy, and couples therapy programs. Our customized treatment approach reduces the risk of relapse significantly in patients and prepares them for sustainable sobriety. 
Who would benefit from IOP?
Intensive outpatient treatment offers the next highest level of care after the inpatient program while still providing patients with the freedom of remaining in their homes during treatments. IOP may be the most viable treatment option for:
Individuals suffering from a mild to moderate level of addiction or those in early addiction stages
Recovering addicts looking for a step-down level of care after inpatient treatment.
Patients who do not need medical detox.
Professionals, students, and individuals with important family obligation who cannot take time off from their commitments and everyday responsibilities.
Those who cannot afford inpatient rehab treatment. 
Call 480-589-0895 to speak to one of us at Rising Phoenix Wellness Services (480-589-0895). We are a leading treatment center for IOP in Scottsdale with a dedicated staff team and state of the art amenities. Get in touch with us to verify insurance or for more details on our treatments and programs.
IOP Scottsdale
We welcome your comments!