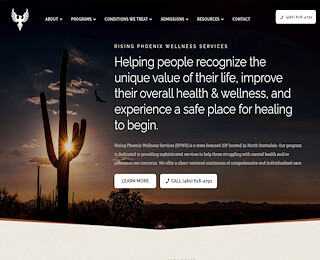 At Rising Phoenix Wellness Services, we offer access to the most effective rehab programs and one of the most popular rehabs in Scottsdale. Our Arizona treatment center operates based on the highest quality standards, offering safety, comfort, advanced medical and psychiatric services, and expert counseling and guidance. The benefits of rehabilitating in our institution are immense:
1. Faster and safer detox
The detoxification process is not easy and certainly not risk-free, especially when dealing with severe addictions. Most people who resort to self-detox fail or deal with disrupting side-effects, like drug interactions, overdoses, severe dehydration, etc. To prevent that, our Arizona addiction recovery center offers patient-oriented detox involving medication, therapy, and continuous medical assistance.
Our professionals will supervise your progress during the program, ensuring you remain on point with your recovery. This will eliminate the risks coming with the detox phase and diminish the discomfort during the procedure tremendously.
2. Relief from mental problems
Most recovering addicts struggle with advanced co-occurring mental problems. It's often not clear if addiction is responsible for their mental issues or the other way around. What is clear is that they need comprehensive dual diagnosis treatment to address the underlying mental disorders and ensure sustainable sobriety over the years.
Our Scottsdale drug and alcohol treatment uses detox and dual diagnosis to provide relief from co-occurring disorders. This will help you recover faster and remain sober and healthy over the years.
3. Addressing mental and emotional traumas
In many situations, mental and emotional traumas are the roots of addictive behavior. Our Scottsdale addiction treatment center relies on a team of counselors ready to identify and address these problems during the rehabilitation treatment. We will help you understand your traumas and their causes, learn to forgive and forget, and improve yourself as an individual over time.
This approach will help you reconsider your life's choices, learn from your and others' mistakes, and become a better person in the process.
4. Forge your own personal development journey
Everybody deals with addiction in their unique ways, which means that the rehabilitation treatment is different from one patient to the next. We rely on patient-oriented programs at our center, aiming to support fast recovery and comprehensive personal growth. Our counselors and health professionals will teach you how to cope with addiction, improve your lifestyle, and become personally and financially successful over the years.
In this sense, our Scottsdale rehab for addiction treatment offers the opportunity for extensive personal growth and transformation.
5. Relapse prevention education
Many addicts complete their rehab programs only to relapse several years down the line. Most of them relapse within the first year of completing the inpatient treatment. At our rehabs in Scottsdale, we teach responsibility, accountability, and knowledge and the pillars of a sober, healthy, and stable lifestyle over the years.
Rising Phoenix Wellness Services supports individuals in their quest for a sober and fulfilling lifestyle. Call our counselors at 480-589-0895, and let's discuss your treatment options! You can come in for assessment and detox today if you're ready to begin the journey to a new future.
We welcome your comments!