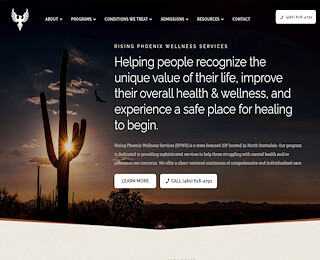 Dealing with advanced addiction can be a hellish experience when lacking medical and psychiatric assistance. To regain your health and mental freedom, you need to contact Rising Phoenix Wellness Services and come to our treatment center in Scottsdale as soon as possible. Getting early treatment at our Arizona treatment center is your best chance at long-lasting sobriety.
What makes our rehabilitation center unique?
The percentage of relapse among recovering addicts tends to remain high in most rehab centers, primarily due to poor treatment protocols. Our purpose is to provide patients with a comprehensive recovery experience, helping them recover fast in a safe and comfortable environment. Unlike most rehabilitation facilities, our Arizona addiction recovery center uses a structured rehabilitation protocol that includes:
Detox and stabilization – The detoxification phase comes first, with our clinicians assessing your health status, gathering data about your medical history and addiction specifics, and supervising the detox. We use medication and therapy to minimize the withdrawal, cleanse your system, and allow your brain and nervous system to clean and reset. The detox program will allow you to control your cravings better and flush all the addiction-related toxins from your system in preparation for subsequent treatment programs.
Dual diagnosis treatment – The dual diagnosis program aims to identify and address addiction and the respective co-occurring disorders linked to it. These mental issues may include anxiety, depression, bipolar disorder, mental and emotional trauma, eating disorders, etc. Our Scottsdale drug and alcohol treatment uses the dual diagnosis program as a tool to promote faster recovery and a more stable state of mind both during and after the rehab treatment.
Inpatient program – The inpatient program is a core component of the recovery protocol at our Scottsdale addiction treatment center. It offers a comfortable, safe, and controlled environment where you can recover and heal at your own pace. Our professionals will remain by your side for the entire duration, supervising your progress and providing assistance and guidance as necessary. Some of the therapies we're using here include CBT, DBT, Somatic Experiencing, Accelerated Resolution Therapy (ART), Motivational Interviewing, etc.
Outpatient program – The outpatient program functions as a transition stage between more intensive forms of treatment and an independent lifestyle after rehab. It requires your presence at our center for several hours per week for therapy, testing, support group, individual meetings, etc.
Alumni support – Most of our patients rely on our Alumni program after completing the Scottsdale rehab for addiction treatment. It allows them to further their sobriety goals, find peer support, and learn more about social triggers, a healthy family environment, personal development, etc.
These programs show our approach to rehab and our unparalleled commitment to our patients' wellbeing and personal success. If you need medical assistance to cope with your addiction and mental problems, our treatment center in Scottsdale is the perfect destination.
Call Rising Phoenix at 480-589-0895, ask to speak with a counselor, and we'll take it from there! Now is the time to quit your addiction and make plans for a brighter future and a healthy and more fulfilling life.
treatment center Scottsdale
We welcome your comments!